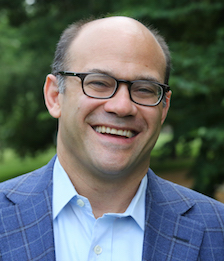 Jesse Berg, MSIT, M.Ed. is the founder of Visual Leap. His career in education began as a Spanish teacher, where he experienced the power of technology and visual thinking to help students take real ownership of their own learning.
Over time, Berg discovered a vast untapped potential of mapping and webbing ideas visually to help students organize and develop ideas. This journey was personal because the methods he developed unlocked his own potential and learning became much easier.
Berg left the classroom in 2007 to found Visual Leap, which grew from these experiences. The mission of Visual Leap is to make learning easier through visual thinking strategies that make complex tasks like reading, writing, note taking and critical thinking, easier to do.
In his new book, Berg explains these strategies in detail so that teachers, students and curious people anywhere can begin to use them and make them their own.
Berg consults and delivers practical professional development for public, private, suburban, urban, parochial, and charter schools around the country.
Contact Visual Leap to discuss how we can help you attain your goals.